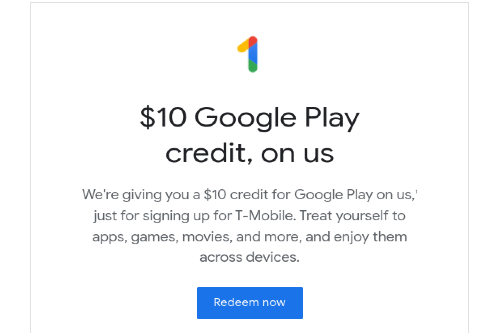 If you are a T-Mobile customer who signed up for a Google One account, you may want to check your email today. This is because Google has sent out a $10 Google Play credit to these subscribers. 
As reported by The T-Mo Report, there are customers who have received emails from Google informing them of the offer. And this is part of Google One Benefits program that occasionally gives perks to subscribers of Google One. If you fit into their criteria, you may be one of the many T-Mobile customers who received an email. 
The offer is exclusive to T-Mobile subscribers. This may be part of the Google One plan that T-Mobile unveiled back in October. This plan included 500GB of Google One Cloud storage at $5 per month. There is also an option to get 2TB of storage at $10 per month. 
If you don't see the offer in your email, you may want to open your Google One benefits page so you can redeem the offer directly from there. According to the email, the offer is valid until April 1, 2022. 
Source: The T-Mo Report