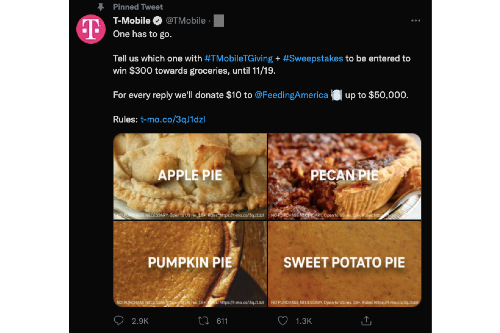 T-Mobile has just unveiled a new sweepstakes on its Twitter account. 
In the tweet, the Un-carrier ran a poll on which pie "has to go." The options include apple pie, pecan pie, pumpkin pie, and sweet potato pie. 
If you respond, T-Mobile will automatically enter you in their #TMobileTGiving #sweepstakes. This will give you a chance to win $300 on your groceries. 
In addition to the sweepstakes, they will also be donating $10 to Feeding America. They will match every reply on the tweet up to $50,000. 
Who knew that with a simple tweet, you not only get a chance to win money for groceries, you also get to do some good. You have until 3 PM PT on November 19th to reply to their tweet here. 
You can read more about the rules of the sweepstakes here. 
Source: T-Mobile