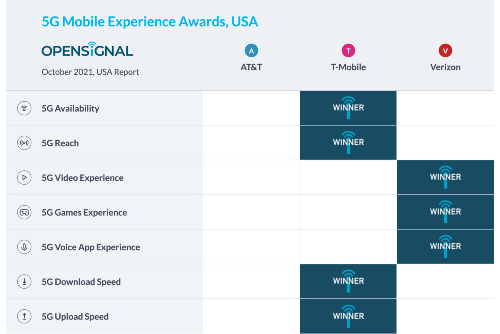 And again, T-Mobile has gained new recognition for its 5G speed and coverage. 
Earlier today, Opensignal published its Q3 5G Experience Report. The study showed that the Un-Carrier received the top score for the best 5G availability, largest 5G reach, and fastest 5G upload and download speeds. 
According to the report, T-Mobile's average 5G download speed reached up to 118Mbps. This is a number that is twice as fast as its rivals. And in the last three months, this number reflects a 36% increase. It's a clear indication of how fast T-Mobile's Ultra Capacity 5G network is growing throughout the country. 
"Virtually every network report from third-party experts this year shows the same thing: T-Mobile delivers unmatched 5G coverage and blazing 5G speeds that just keep getting faster," T-Mobile President of Technology, Neville Ray said. "Today, we provide 5G speeds and coverage the Carriers can't match. And as we deploy even more Ultra Capacity 5G across the country, we'll continue to pull even farther away from the pack on performance."
You can read more on Opensignal's report here.
Source: T-Mobile