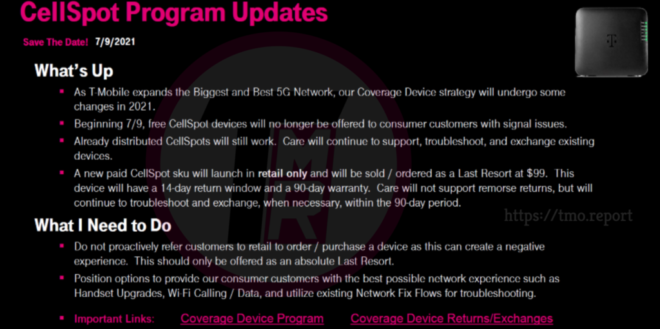 T-Mobile will be making changes to its femtocell CellSpots. 
This information was revealed in a leaked document obtained by this publication. According to the document, T-Mobile's personal CellSpots will no longer be offered as a free rental. Beginning July 9th, customers will have to make a small $99 deposit in order to purchase the CellSpots. But instead of renting these, customers will be owning the units already.
T-Mobile originally offered the CellSpot as one of three different options back in 2015. The Un-Carrier released the CellSpot to act as a backhaul for a personal cell tower. It does this by using the customer's own internet service. As a result, the particular address gets localized cell coverage. 
In addition to the CellSpot, T-Mobile also offered a two-piece repeater. Customers who opted for this were able to extend signal at a window so they could have signal inside their home. T-Mo also offered a custom-branded Asus Wi-Fi router that customers could use with Wi-Fi Calling. 
As of this writing, T-Mobile will let existing units that have been deployed already continue to function. They are also considering this option as a "last resort" for coverage. It will come with a 14-day return window and a 90-day warranty. 
Source: 1