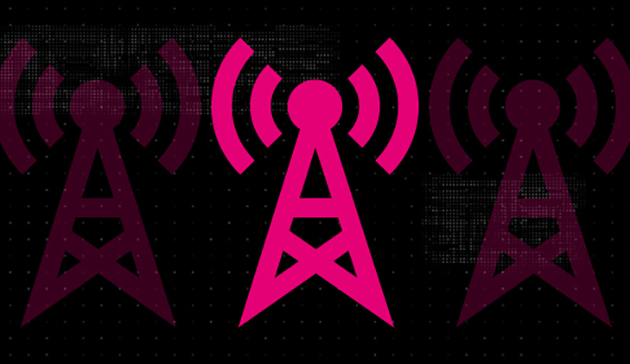 T-Mobile's got one more network upgrade to announce in 2019.
T-Mo today confirmed that it's upgraded hundreds of 600MHz and 700MHz cell sites across the country. These upgrades have all been performed within the last two weeks, which is great timing for folks who may be visiting friends or family in a different city for the holidays.
Some of the cities included in this latest batch of low-band LTE upgrades include Portland, OR; Chicago, IL; Los Angeles, CA; Arlington, VA; Omaha, NE; and Columbus, OH. As usual, I've got the full list of upgraded cities below.
Did your town recently get a low-band LTE upgrade? If so, have you noticed a difference?
Avondale, AZ
Chandler, AZ
Maricopa, AZ
Mesa, AZ
Phoenix, AZ
Tempe, AZ
Tucson, AZ
Benton, AR
Dover, AR
Mayflower, AR
Springdale, AR
Yellville, AR
Anaheim, CA
Bonita, CA
Compton, CA
Desert Hot Springs, CA
Escondido, CA
Garden Grove, CA
Greenfield, CA
Hanford, CA
Los Angeles, CA
Pasadena, CA
Perris, CA
Pinole, CA
Rancho Cucamonga, CA
Rosamond, CA
Rosemead, CA
San Diego, CA
Santa Ana, CA
South Gate, CA
Temecula, CA
Aurora, CO
Conifer, CO
Denver, CO
Erie, CO
Lone Tree, CO
Loveland, CO
Steamboat Springs, CO
Bridgeport, CT
Greenwich, CT
New Haven, CT
Norwalk, CT
Riverton, CT
Stamford, CT
Trumbull, CT
Vernon Rockville, CT
West Haven, CT
Washington, DC
Chipley, FL
Dade City, FL
Jacksonville, FL
Key Biscayne, FL
Naples, FL
Bristol, GA
Jonesboro, GA
Lawrenceville, GA
Lithonia, GA
Richmond Hill, GA
Woodbine, GA
Aiea, HI
Caldwell, ID
Emmett, ID
Idaho Falls, ID
Island Park, ID
Kuna, ID
Meridian, ID
Nampa, ID
Chicago, IL
Palatine, IL
Hammond, IN
Indianapolis, IN
Newburgh, IN
Kokomo, IN
Winterset, IA
La Crosse, KS
Wichita, KS
Lexington, KY
Chauvin, LA
Covington, LA
Metairie, LA
Ponchatoula, LA
Shreveport, LA
Baltimore, MD
Glen Burnie, MD
Jessup, MD
Laurel, MD
Lothian, MD
Lusby, MD
Odenton, MD
Owings Mills, MD
Silver Spring, MD
Towson, MD
Dundee, MI
Roscommon, MI
Alexandria, MN
Garrison, MN
Inver Grove Heights, MN
Laporte, MN
Minneapolis, MN
Columbia, MO
Farmington, MO
Kansas City, MO
Lebanon, MO
Bozeman, MT
Miles City, MT
Omaha, NE
Ely, NV
Las Vegas, NV
Englishtown, NJ
Glen Rock, NJ
Hamburg, NJ
Maywood, NJ
Metuchen, NJ
Monroe Township, NJ
Newark, NJ
Ridgefield, NJ
Toms River, NJ
Woodstown, NJ
Albuquerque, NM
Artesia, NM
Estancia, NM
Hatch, NM
Addison, NY
Astoria, NY
Brooklyn, NY
Corona, NY
Farmingdale, NY
Glen Head, NY
Great Neck, NY
New York, NY
Rochester, NY
Ronkonkoma, NY
Sunnyside, NY
Waddington, NY
Woodbury, NY
Woodgate, NY
Gold Hill, NC
Hillsborough, NC
Bismarck, ND
Glen Ullin, ND
McClusky, ND
Ruso, ND
Columbus, OH
Grove City, OH
Orwell, OH
Carnegie, OK
Edmond, OK
Hobart, OK
Laverne, OK
Mountain Park, OK
Oklahoma City, OK
Tulsa, OK
Walters, OK
Beaverton, OR
Cottage Grove, OR
Happy Valley, OR
Hillsboro, OR
Lake Oswego, OR
Portland, OR
Rainier, OR
Salem, OR
Tualatin, OR
Beaver Springs, PA
Doylestown, PA
Dublin, PA
East Stroudsburg, PA
Effort, PA
Erie, PA
Herminie, PA
Huntingdon, PA
Kersey, PA
Long Pond, PA
Palmerton, PA
Lancaster, SC
Silverstreet, SC
Pierre, SD
Vermillion, SD
Hohenwald, TN
Linden, TN
Adrian, TX
Aspermont, TX
Baytown, TX
Brackettville, TX
Channing, TX
Cookville, TX
Dallas, TX
De Kalb, TX
Dublin, TX
El Paso, TX
Floydada, TX
Frisco, TX
Garland, TX
Gatesville, TX
Houston, TX
Jefferson, TX
McAllen, TX
McKinney, TX
Mount Enterprise, TX
Mount Pleasant, TX
Paducah, TX
Paris, TX
Sweeny, TX
Spring, TX
Tyler, TX
American Fork, UT
Clearfield, UT
Farmington, UT
Layton, UT
Lindon, UT
Midway, UT
Ogden, UT
Salt Lake City, UT
Sandy, UT
South Jordan, UT
Springville, UT
West Valley City, UT
South Burlington, VT
Arlington, VA
Chantilly, VA
Danville, VA
Glasgow, VA
Keysville, VA
Moseley, VA
Newport News, VA
Stuart, VA
Virginia Beach, VA
Burlington, WA
Chehalis, WA
Pasco, WA
Vancouver, WA
Washtucna, WA
Yakima, WA
De Pere, WI
Green Bay, WI
Oshkosh, WI
Sturgeon Bay, WI
Washburn, WI
Waupaca, WI
Source: Neville Ray