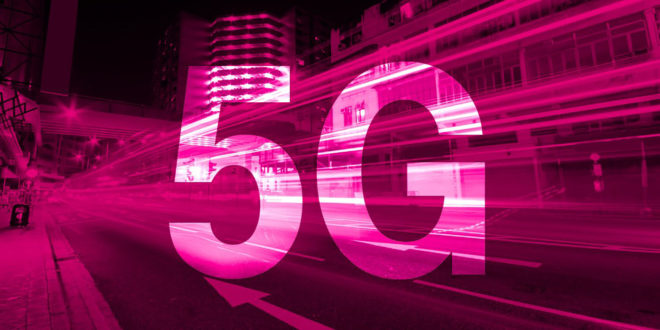 T-Mobile previously said that its nationwide 5G coverage would go live on December 6th, but it looks like T-Mo just couldn't wait until then to flip the switch.
T-Mobile's nationwide 5G network is now live. This coverage uses 600MHz low-band spectrum and covers 200 million people and more than 5,000 cities and towns. You can view T-Mo's 5G coverage map below, with an interactive and zoomable version available right here.
T-Mobile's 5G coverage is available to everyone  on T-Mo, including postpaid and prepaid customers, and it doesn't cost anything extra to access. Metro by T-Mobile customers will be getting access to T-Mo's new 5G network, too. Prepaid 5G on Metro will go live on December 6th.
In order to access this 5G coverage, you'll need either a OnePlus 7T Pro 5G McLaren Edition or Samsung Galaxy Note 10+ 5G. You can pre-order both phones right now, and they'll launch in T-Mobile stores on December 6th. The OnePlus 7T Pro 5G is priced at $37.50 per month for 24 months or $899.99 full retail, while the Note 10+ 5G is $36.12 per month for 36 months or $1,299.99 full retail.
T-Mo is also launching special deals for both of its 5G phones. Customers who switch to T-Mobile and trade in a qualifying device can get the OnePlus 7T Pro 5G McLaren Edition for free with 24 monthly bill credits. Here are the devices eligible for trade-in with this offer:
iPhone XS, iPhone XS Max, iPhone XR, iPhone X, iPhone 8 Plus, iPhone 8, Samsung Galaxy S10, Samsung Galaxy S10e, Samsung Galaxy S10 5G, Samsung Galaxy S9, Samsung Galaxy Note 10, Samsung Galaxy Note 9, Google Pixel 3, Google Pixel 3 XL, OnePlus 7 Pro, LG G8 ThinQ
If you're already a T-Mo customer, you can get up to $300 off the OnePlus 7T Pro 5G McLaren Edition when you trade in a qualifying device. You'll get trade-in credit based on the fair market value of your device and the balance of the promo value via a virtual prepaid gift card.
Customers who buy a Samsung Galaxy Note 10+ 5G can get a second one for free when they buy a second Note 10+ 5G and add a line. T-Mo will cover the cost of your second Note 10+ 5G with 36 monthly bill credits.
T-Mobile also tells PCMag that it plans to launch 15 new 5G-compatible phones in 2020, so if these OnePlus and Samsung models don't appeal to you, then you should have plenty of options next year.
One thing to be aware of is that the 5G that's launching today is different than the 5G that T-Mobile deployed in six cities earlier this year. That coverage is based on millimeter wave (mmWave) spectrum and is only compatible with the Samsung Galaxy S10 5G, which doesn't support the 600MHz-based 5G that T-Mo is launching today. The OnePlus 7T Pro 5G and Note 10+ 5G do not support T-Mobile's mmWave-based 5G. T-Mobile has told PCMag that the first devices that support all three "layers" of 5G — low-band, mid-band, and mmWave — are expected to arrive "in the Q1 timeframe".
After the smaller mmWave-based 5G launch earlier this year, it's exciting to see T-Mobile's 5G going live in more than 5,000 cities and towns. While the speeds on this low-band 5G network likely won't be as fast as those on the mmWave 5G, they should give you a little boost over 4G LTE, especially right now when there won't be many people using the 5G airwaves. And while the 5G network is still young, T-Mo will be improving and expanding it in the coming years. For example, as the 600MHz spectrum previously used for TV gets repacked, T-Mo can use those airwaves to grow the reach of its network.
Now that T-Mobile's low-band 5G is live and we've got pricing and launch info for the first two phones, are you going to move to 5G?
Source: T-Mobile