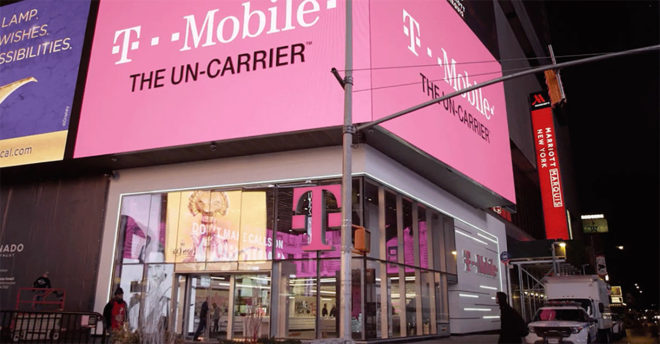 T-Mobile is combining two of its existing plans to make a new option for customers.
Tomorrow, September 6, T-Mobile is launching a new Essentials Unlimited 55 rate plan for customers aged 55 and up. It's a more aggressively priced version of the Unlimited 55 plan that T-Mo launched two years ago, coming in at $55 per month for two lines with autopay or $40 per month for a single line.
The Essentials Unlimited 55 plan offers unlimited talk, text, and data just like the regular Magenta Unlimited 55 plan, but it does make a few changes to get that lower price tag. There's no 4G LTE mobile hotspot, only 3G hotspot usage, though you can add 10GB of 4G LTE hotspot for $10 per month. And rather than getting 4GB of 4G data in Mexico and Canada and data and texting abroad like on Magenta Unlimited 55, customers on the Essentials Unlimited 55 plan only get 2G data in Mexico and Canada and texting abroad.
Other features included with the Essentials Unlimited 55 plan are T-Mobile Tuesdays and SD video streaming.
One other thing to note about Essentials Unlimited 55 is that unlike the Magenta Unlimited 55 plan, taxes and fees are not included in the monthly price of the Essentials Unlimited 55 plan.
New T-Mobile customers can sign up for an Essentials Unlimited 55 plan by visiting a T-Mo store. A valid government proof of age is required, like a driver's license or passport, to prove that you're over 55. Existing customers can sign up for the new plan in-store or over the phone, though you may still need to provide proof of eligibility if T-Mo doesn't have your birth date on record.
Like the regular T-Mobile Essentials plan, this new Essentials Unlimited 55 offering is meant for consumers who want to be connected but aren't super heavy data users. In exchange for features like LTE hotspot, 4G data usage in Mexico and Canada, and free in-flight Wi-Fi, customers can get a plan with a lower monthly price.
T-Mobile says that its Essentials Unlimited 55 plan will only be available for a limited time.
Source: T-Mobile (1), (2)