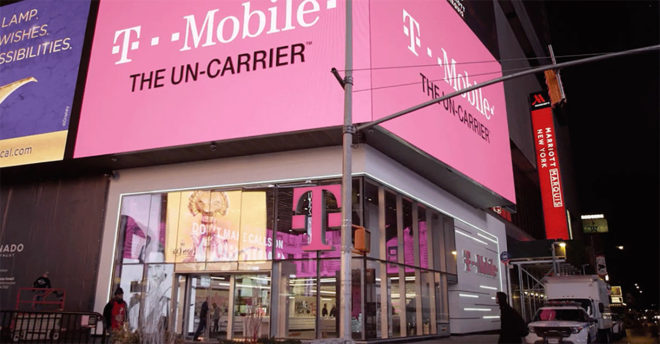 T-Mobile's Q2 2019 earnings are in.
T-Mobile reports that it added 1.65 million customers in Q1 2019, up from 1.4 million in Q1 2018, marking the 24th straight quarter that T-Mo has added more than 1 million customers to its base. That 1.7 million total includes 1.0 million postpaid and 69,000 prepaid customers. Postpaid phone churn for the quarter finished at 0.88 percent, down from 1.07 percent in Q1 2018, while prepaid churn dropped from 3.94 percent in Q1 2018 to 3.85 percent in Q1 2019.
At the end of Q1 2019, T-Mobile had 81.3 million total customers.
When it comes to financials, T-Mobile pulled in service revenues of $8.28 billion, which is up from $7.81 billion in Q1 2018 and is a record for T-Mo. The first quarter of 2019 also resulted in record Q1 total revenues of $11.1 billion and record Q1 net income of $908 million.
T-Mobile today said that it continues to build the foundation of its 5G network that'll use both 600MHz and millimeter wave (mmWave) spectrum, with plans for a nationwide 5G coverage in 2020. T-Mo plans to offer 5G on mmWave spectrum in conjunction with the launch of the Galaxy S10 5G, with plans to launch 5G using 600MHz later this year "in conjunction with the introduction of the first compatible 5G smartphones."
T-Mo's 4G LTE network covered 326 million people at the end of Q1 2019. Focusing on low-band spectrum, T-Mobile covers 304 million people with 600MHz and 700MHz airwaves. Nearly 3,500 cities and towns in 44 states and Puerto Rico have LTE on 600MHz, and T-Mo sells 40 devices compatible with this 600MHz coverage. At the end of Q1 2019, T-Mobile owned a nationwide average of 31MHz of 600MHz spectrum, with a total of 41MHz in the low-band, which includes 600MHz and 700MHz. This spectrum covers 100 percent of the U.S.
T-Mobile also continues to improve its 4G LTE network by refarming existing spectrum and expanding the availability of LTE Advanced technologies. Carrier aggregation is available in 932 markets, up from nearly 900 in Q1 2018. 4×4 MIMO availability has grown, too, and it's now available in 591 markets. 256 QAM is available across T-Mo's entire LTE footprint, and License Assisted Access (LAA) is now available in 29 cities, including Los Angeles, Philadelphia, Washington D.C., Atlanta, Houston, Las Vegas, San Diego, and New Orelans.
Usage of Voice over LTE (VoLTE) grew this past quarter as well. VoLTE calls made up 88 percent of all voice calls made on T-Mobile's network in Q1 2019, up from 80 percent in Q1 2018.
During T-Mo's Q1 2019 earnings call, COO Mike Sievert touched a bit on TVision Home and its pricing, which some have criticized as being too high in the past couple of weeks since the service's announcement. After talking up its TVision Home's features, Sievert said that "it's priced below what typical people at cable and satellite pay beyond that first promotional year. They're in year two of those multi-year contracts where you sign up for something and it's low at first and then you get slammed. And we come in with fair, rational pricing from day one that saves them money right away versus year two and beyond in those crazy contracts."
Source: T-Mobile