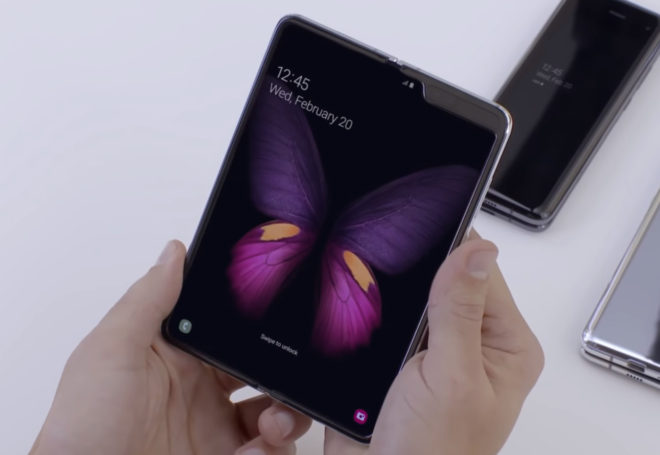 If you're interested in foldable phones, you'll get your chance to be an early adopter of this new form factor when the Samsung Galaxy Fold launches at T-Mobile later this month.
The Samsung Galaxy Fold will be available online from T-Mobile starting at 9:00pm PT on April 25th and in select T-Mobile stores on April 26th. T-Mo doesn't have any pricing details to share today, but Samsung previously said that the Galaxy Fold will cost $1,980.
Samsung's Galaxy Fold is a foldable Android phone with a 4.6-inch 1960×840 Super AMOLED display on the outside and a 7.3-inch 2152×1536 Super AMOLED screen when unfolded. It's also equipped with a total of six cameras, including a 10MP selfie camera on the cover above the small display; a 16MP ultra wide angle camera, 12MP wide angle camera with Super Speed Dual Pixel AF, and a 12MP telephoto camera with 2x zoom on the back of the phone; and a 10MP selfie camera plus an 8MP RGB depth camera inside the device above the large display.
The high-end specs of the Galaxy Fold don't stop there, as it's also packing a whopping 12GB of RAM and 512GB of built-in storage. It's got an octa-core processor inside its shell, too, along with a 4380mAh battery with fast charging support for both wired and wireless charging.
When it comes to T-Mobile, the Galaxy Fold will support 600MHz LTE as well as LTE Advanced technologies like 256 QAM and carrier aggregation. T-Mo also notes that customers who buy a Galaxy Fold will get a free carbon fiber case and Galaxy Buds truly wireless earbuds.
So now that we know the Galaxy Fold is landing at T-Mobile in a couple of weeks, what do you think of it? Does the thought of owning one of the first foldable display smartphones on the market have you thinking about buying the Galaxy Fold?
Source: T-Mobile