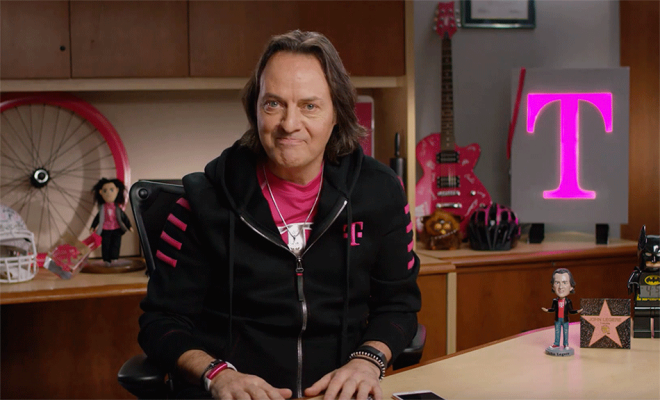 T-Mobile CEO John Legere has published a couple of blogs in recent weeks talking up the T-Mobile-Sprint merger and the benefits that he believes it will bring, and today Legere shared another blog.
The T-Mobile CEO's latest merger-focused blog post focuses on in-home broadband. Legere says that a core promise of the T-Mobile-Sprint merger is to bring competition and choice to the in-home broadband market, particularly when it comes to rural areas. Using its 5G network, Legere claims that the New T-Mobile will offer average speeds of 100Mbps or higher (minimum 25/3Mbps) to half of the U.S.'s geography and nearly 90 percent of its population by 2024, when New T-Mobile expects to have full deployment of its 5G network. New T-Mo plans to have 9.5 million customers on its in-home broadband service by 2024.
The New T-Mobile also plans to offer an in-home installation process that's easier than what the cable operators offer today. Legere says that the New T-Mobile will have a "broadband in a box" package that includes a New T-Mobile In Home Router that you plug in and self-install using a mobile app. In-home broadband help will also be integrated with T-Mobile's Team of Experts support.
T-Mobile plans to run a pilot of its home internet service using a 4G router that'll run on T-Mo's LTE network. You can see an image of the router below. Customers will get the router for free, and T-Mo says that after the merger it'll be upgraded to support 2.5GHz spectrum and 5G-compatible hardware.
Finally, Legere says that the New T-Mobile will offer savings compared to other in-home broadband services. This includes the expectation that New T-Mobile's Home Internet will cost less than existing in-home broadband options, as well as some folks ditching home internet and simply relying on mobile wireless service as a substitute. T-Mobile also claims that customers of other in-home providers will benefit from New T-Mobile's entry into the home broadband space by forcing other providers to lower their prices and improve services to better complete.
Along with Legere's blog post, T-Mobile today submitted a document to the FCC that goes into its home broadband plans post-merger a bit further. There's quite a bit that's redacted, but if you want to give it a look, you can find it here.
The current situation with the T-Mobile-Sprint merger is that it's still being reviewed by the FCC and DOJ, and the latest reports say that both agencies could be a month or more away from making a decision. In the mean time, the House Judiciary Committee will hold a hearing on March 12th to examine the impact of the T-Mobile-Sprint merger on consumers, workers, and the internet.