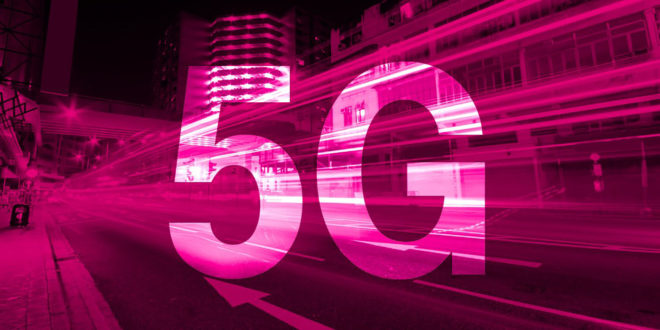 Following a bit of confusion yesterday around T-Mobile's 5G network launch, CTO Neville Ray today talked a bit more about T-Mo's plans for 5G.
Speaking to PCMag, Ray said that T-Mobile's 5G plans will "absolutely" be unlimited and that they won't cost more than T-Moble's current rate plans for at least three years. T-Mo currently offers a single line of its T-Mobile One plan for $70 per month, which is the same price AT&T charges for access to its 5G network, though that plan only comes with 15GB of data per month.
We've heard T-Mobile make a similar pricing pledge recently with regard to its merger with Sprint. T-Mo CEO John Legere has said that, if approved, the New T-Mobile will offer the same or better rate plans at current or lower prices for at least three years after the merger. Now Ray's statements confirm that 5G rate plans are included in that commitment.
Ray also touched a bit on T-Mobile's 5G network launch plans. Yesterday T-Mo said that it plans to launch 5G using spectrum other than 600MHz in the first half of 2019, likely referring to millimeter wave (mmWave) spectrum. Ray said that T-Mobile is still "trialing and experimenting" with 5G but that it'd like launch something in the first half of the year. "We can do stuff in the first half. We're going to have devices and we're going to have network. But how material is it?" he said.
Ray confirmed that T-Mobile can potentially cover 100 million people with mmWave spectrum, which T-Mo has in places like Atlanta, Los Angeles, Miami, New York, Ohio, and a few other locations. On the hardware side, T-Mobile has committed to launching the Samsung Galaxy S10 5G this summer, but no other details about its 5G hardware plans have been confirmed.
Meanwhile, T-Mobile is likely to launch its 600MHz 5G coverage in the second half of 2019. That's when phones with Qualcomm's Snapdragon X55 modem, which supports T-Mobile's 600MHz 5G, are expected to become available. The 600MHz 5G is important because that spectrum has a longer reach that mmWave, so it'll enable more people to get onto T-Mobile's 5G network.
It's unclear when in the second half of the year T-Mobile might launch its 600MHz 5G network, as Ray would only commit to that second half window when Snapdragon X55 phones are available. PCMag has heard rumblings that that "second half" rollout may come as late as November.
Source: PCMag