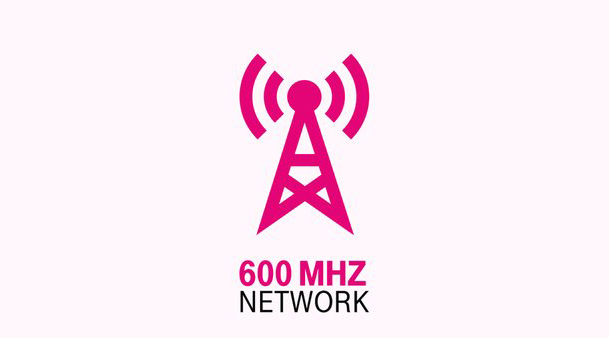 T-Mobile has placed a heavy focus on 600MHz lately, buying up a ton of spectrum in an FCC auction last year and then putting it to use to deploy LTE. Now T-Mo wants to run an experiment using 600MHz airwaves.
T-Mobile has asked the FCC to authorize it to test using its 600MHz coverage closer to TV stations than the FCC currently allows. The FCC's rules require a 5 megahertz adjacent channel separation when a 600MHz LTE device operates within the protected service contour of a full power or Class A television station. T-Mo wants to experiment operating closer to those TV stations.
In its request, T-Mobile explains that it wants to activate "a small number of devices" across all of the B Block. These devices will have at least 1 megahertz of guard band between the LTE and ATSC occupied spectrum in the downlink portions of the 600MHz band.
T-Mo explains that it'll enable retail phones within range of two LTE base stations to access this spectrum during specific time periods, starting during low viewership periods like late at night and then transitioning to normal daytime hours. Fewer than 50 phones will connect to the LTE base stations during the testing periods, and if T-Mo, a broadcaster, or television viewer detects interference, T-Mobile says it'll stop its testing.
These tests will be conducted in the Greensboro, N.C. area. T-Mobile holds the 600MHz B block (622-627/668-673) license in this area, and TV stations in that area are authorized to operate adjacent to those frequencies. T-Mo specifically calls out WUVC, which is authorized to operate on channel 38 (614-620MHz), which is less than 5 megahertz away from the B block downlink. Under the FCC's current rules, T-Mobile would not be allowed to use the B block because of WUVC.
It remains to be seen if the FCC will allow T-Mobile to conduct this test, and even if it does, we don't know if the experiment will be successful. T-Mo does say that this proposed test follows lab and field testing that suggest that its experiment will yield favorable results. Considering how heavily T-Mobile has been focusing on its 600MHz LTE deployment ever since it bought all of that spectrum in an FCC auction, it's no surprise that T-Mo wants to experiment with a new way to get more use out of those airwaves.
You can read T-Mobile's full application at the FCC link below.
Via: FierceWireless
Source: FCC