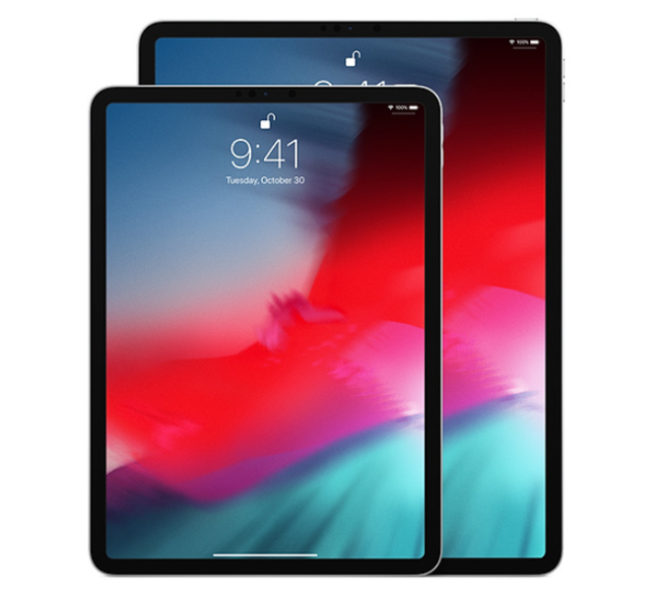 Apple's iPad Pro is getting a big refresh.
Apple today announced its new iPad Pro, which has an updated design and two screen sizes: 11-inch and 12.9-inch. These new iPad models have slimmer bezels all around the display thanks to their lack of a home button. Since they've ditched the home button, the new iPad Pro tablets have adopted Face ID for security, and Apple says that this feature works in any orientation.
Another major new feature of Apple's updated iPad Pro tablets is USB-C. Rather than using its proprietary Lightning connector like on the iPhone, Apple has included a USB-C port on its new iPads, and you can use this port to connect accessories like a 5K monitor. You can also use it to charge an iPhone if you're phone is running low on power. Also of note is that there's no headphone jack on the new iPad Pro models, so you'll need to get Apple's new USB-C-to-3.5mm adapter if you've got a pair of 3.5mm headphones that you love.
Inside the iPad Pro is Apple's new A12X Bionic processor, which is a variant of the A12 Bionic chipset found in the iPhone XS and iPhone XR. The A12X Bionic has an octa-core CPU with four performance cores and four efficiency cores, and Apple says it offers up to 35 percent faster single-core peformance. There's a seven-core GPU in there, too, which Apple claims is up to 1000 times faster and offers Xbox One S-class graphics performance.
Getting back to the screens, the new iPad Pro will be available with 11-inch 2388×1668 and 12.9-inch 2732×2048 displays which are of the Liquid Retina LCD variety. They offer technologies like ProMotion and wide color as well as True Tone, a feature that'll automatically adjust the color and intensity of your screen to match the ambient light to help make images on the screen appear more natural.
Apple has packed a 7MP front-facing camera into the new iPad Pro models as well as a 12MP rear camera with an improved flash. There are four speakers that Apple says offer wider stereo sound, as well as Bluetooth 5.0, eSIM, and Gigabit-class LTE support.
The new iPad Pro will come in Wi-Fi as well as Wi-Fi + LTE variants. The LTE-enabled models include support for T-Mobile LTE bands 2, 4, 5, 12, 66, and 71, which is good to see. The full list of the new iPad Pro's supported LTE bands includes 1, 2, 3, 4, 5, 7, 8, 11, 12, 13, 14, 17, 18, 19, 20, 21, 25, 26, 29, 30, 34, 38, 39, 40, 41, 46, 66, and 71.
As of this post's publication, T-Mobile hasn't made any announcements about whether it'll sell these new iPad Pro models. T-Mo sells a few different cellular-enabled iPad tablets, though, including iPad Pro models and the new iPad that launched earlier this year, so it's definitely possible that the iPad Pros announced today will be sold by T-Mobile. I've contacted T-Mo to ask if they plan to sell the new iPad Pros and will let you know if I hear back.
Apple is now taking pre-orders for its new iPad Pro models in 64GB, 256GB, 512GB, and 1TB options. The 11-inch iPad Pro starts at $799 for the Wi-Fi model and $949 for the Wi-Fi + Cellular version, while the larger 12.9-inch iPad Pro starts at $999 for the Wi-Fi variant and $1,149 for the Wi-Fi + Cellular model. The new iPad Pro tablets will officially launch on November 7.
Also announced today are a couple of new accessories. The updated Apple Pencil has a new design and can attach magnetically to the side of the new iPad Pros, which is not only an easier way to carry the stylus but can also charge the Apple Pencil wirelessly. The new Apple Pencil is priced at $129.
And then there's the new Smart Keyboard Folio, which offers a full-size physical keyboard for the iPad Pro and can protect both the front and back when closed. The new Smart Keyboard Folio attaches to the iPad Pro magentically and offers two viewing angles. Pricing for this accessory is set at $179 for the 11-inch iPad Pro and $199 for the 12.9-inch iPad Pro.
So there you have it. These new iPad Pro tablets look like major upgrades, offering updated designs and improved specs. The addition of USB-C is a change that's both welcome and kind of crazy to see considering how often Apple has opted for proprietary connectors on mobile devices in the past. Using USB-C could help make these new iPad Pros more "Pro", though, letting you connect accessories like a large monitor.
What do you think of these updated iPad Pro tablets?
UPDATE: T-Mobile CEO John Legere has confirmed that T-Mo will sell Apple's new iPad Pros. "Get ready to order yours on 11/7", Legere said today.
Hell yeah @TMobile will be carrying the new #iPad Pro Pairs best with America's Fastest Unlimited Network. Get ready to order yours on 11/7#AppleEvent pic.twitter.com/Ipk39thktZ

— John Legere (@JohnLegere) October 30, 2018
UPDATE 2: T-Mobile will begin taking pre-orders for the new iPad Pro on November 2, and it'll launch in T-Mobile stores on November 7.