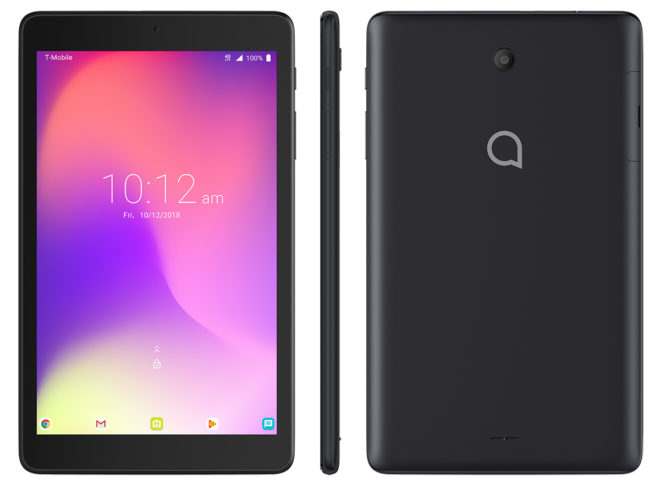 T-Mobile offers several smartphones that support its 600MHz (Band 71) LTE connectivity, and now it's launching a tablet that has the feature, too.
The Alcatel 3T 8 is launching at T-Mobile on October 12th at a price of $6 down and $6 per month for 24 months, or $150 full retail. This tablet runs Android 8.1 Oreo on an 8-inch 1280×800 display and is equipped with 5MP front and rear cameras. There's a 1.5GHz quad-core MediaTek8765A processor inside the Alcatel 3T 8 along with 2GB of RAM, 16GB of built-in storage, and a microSD card slot. Powering the whole package is a 4080mAh battery.
Alcatel touts that it's included some custom software features with the 3T 8 that are focused on entertainment. The CloserTV app gathers apps like Netflix, Hulu, Amazon Video, cable, and satellite TV into one app to help you easily search for and view content across all your services. There's also a built-in Kids Mode with a parental control panel to set usage time limits, select which apps your child can use, and utilize smart power saver settings.
Finally, as mentioned before, the Alcatel 3T 8 includes support for T-Mobile's 600MHz (Band 71) LTE coverage, which reaches farther and is better at penetrating buildings than mid-band LTE coverage. T-Mo recently revealed its 600MHz LTE coverage is now live in more than 1,250 markets. Here's what the Alcatel 3T 8's full wireless connectivity support looks like:
GSM: 850/900/1800/1900MHz
UMTS: 2/4/5
LTE: 2/4/5/12/66/71
The Alcatel 3T 8 may not be a super high-end tablet, but it is an affordable option for folks who just want a simple tablet for watching videos on the go. Plus, it's good to see a new tablet hitting T-Mobile with 600MHz LTE support. If the Alcatel 3T 8 interests you, keep an eye out for it later this week.