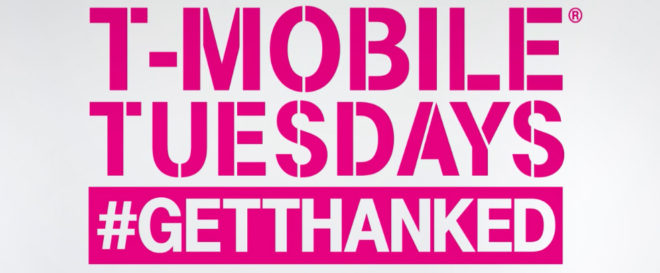 The gifts and prizes for next week's T-Mobile Tuesdays have been revealed, and they include a unique contest.
On August 7th, T-Mobile customers can get a $2 Dunkin' Donuts card, 40 percent off and free shipping from Eddie Bauer, and 25 percent off with the Google Express app, which offers products from the likes of Target, Walmart, Costco, Jockey, and more. Rounding things out next week is an offer from HotelStorm.
Next week's contest involves FanDuel fantasy baseball. The Baseball Classic presented by T-Mobile Tuesdays will task you with choosing a fantasy baseball team every Tuesday in August. The team with the most points each week will win $1000, and more prizes will be available for other players.
Here are the prizes available each week as part of the contest:
Position Level: 1st Place
Prize Awarded: $1000
Position Level: 2nd Place
Prize Awarded: $500
Position Level: 3rd Place
Prize Awarded: $250
Position Level: 4th-5th Place
Prize Awarded: $10
Position Level: 6th-7th Place
Prize Awarded: $8
Position Level: 8th-10th Place
Prize Awarded: $6
Position Level: 11th-15th Place
Prize Awarded: $4
Position Level: 16th-25th Place
Prize Awarded: $3
Position Level: 26th-50th Place
Prize Awarded: $2
Position Level: 51st-95th Place
Prize Awarded: $1
Position Level: 96th-494th Place
Prize Awarded: $0.50
Position Level: 495th-2500th Place
Prize Awarded: $0.25
Source: T-Mobile Tuesdays