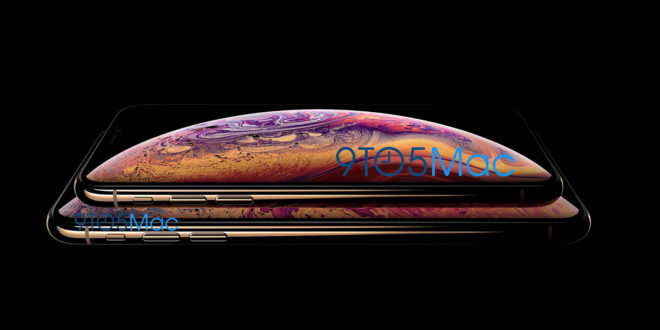 Looks like we don't have to wait until September 12th to get our first look at Apple's new iPhones.
An image that purportedly shows both of Apple's new iPhone models has leaked out. Shared by 9to5Mac, the image shows two iPhones that look similar to the current iPhone X, but with gold outer edges. We can also see two different iPhone sizes, which lines up with the rumor that the new iPhone X models will come in 5.8-inch and 6.5-inch sizes.
In addition to the image, today's report claims that these new iPhones will both be known as "iPhone XS". That lines up with the naming scheme that Apple has used in the past, which added an "S" to model names that were in-between major generations and focused on internal changes.
While the overall design of Apple's new iPhones may be similar to the iPhone X, the inclusion of a larger model with a 6.5-inch screen will be welcome for fans of the Plus-sized iPhone models. The gold color option is nice to see, too, because having more color options when buying a new phone is always a good thing.
The folks at 9to5Mac also got their hands on an image of the new Apple Watch Series 4 today. While the shape of this Apple Watch looks similar to the current model, it looks like Apple has slimmed the bezels to give the watch a larger display.
The leaked image also shows a new watch face that's chock full of information. There's Apple's exercise rings, the temperature, a timer, the UV index, the sunrise and sunset times, and more, all in addition to the actual time. Meanwhile, on the side of the Apple Watch Series 4 we can see what looks to be an updated Digital Crown and a small hole that could be an additional microphone.
Thankfully, it looks like this Apple Watch Series 4 will be compatible with Apple's current Watch bands, meaning those of you with extensive band collections can keep using those straps with the new Apple Watch.
So there are Apple's upcoming iPhone XS and Apple Watch Series 4 products. Do any of them interest you?
Sources: 9to5Mac (1), (2)