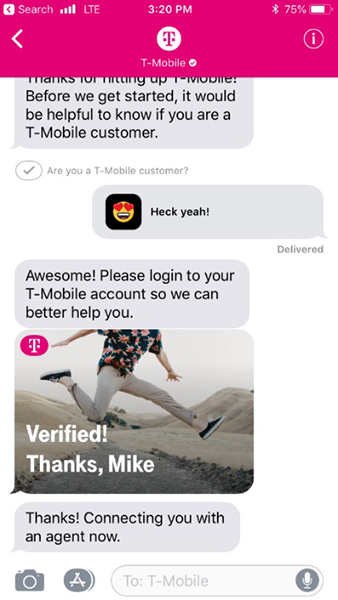 One of the big new features of iOS 11.3 is Business Chat, which lets you communicate with businesses, order products, and more, all through the Messages app that's built in to your iPhone. Today T-Mobile announced that it's enabling this feature for its customers.
T-Mobile now offers Business Chat for iOS. With it, you can chat with T-Mo customer care reps using the Messages app on your iPhone, iPad, or Mac. You can use Business Chat to ask questions, make a payment, change your rate plan, buy a new phone, and more.
To use Business Chat, you can swipe right from your iOS device's home screen, search for T-Mobile, and tap the chat bubble icon. You can also search for T-Mobile in Apple Maps and begin chatting from there. T-Mobile has also updated its iOS app so that you can log in to your T-Mobile account within Messages.
When you're done chatting with T-Mobile or any other business using Business Chat, you can swipe to delete the conversation from your messages list and stop receiving chats until you initiate another conversation.
T-Mobile already has several ways that you can contact its customer support reps, including phone calls, Twitter, chat on its website, and in-app messaging using the T-Mobile app. It's great to see T-Mo roll out support for Business Chat as well, though, especially less than one month after iOS 11.3 rolled out. Now iOS users can more easily message T-Mobile customer support reps using the same built-in Messages app that they're accustomed to using for texting friends and family.
Source: T-Mobile