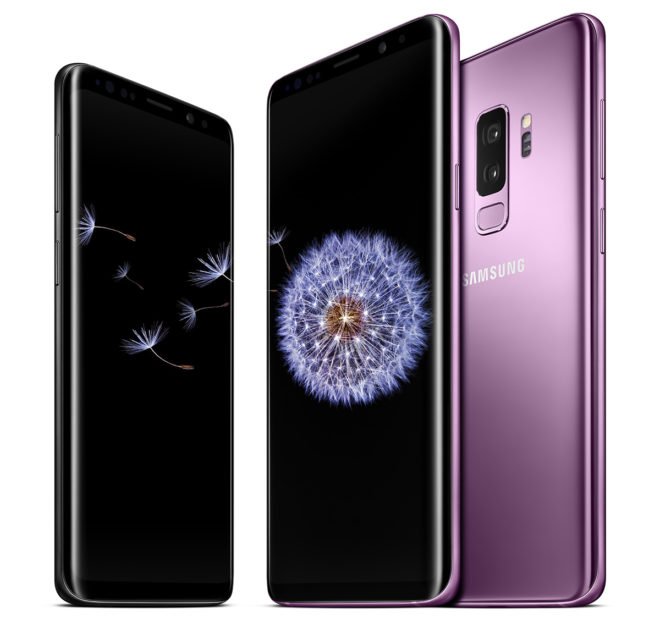 After appearing in numerous leaks and rumors, the Samsung Galaxy S9 has finally made its official debut.
Samsung today introduced the Galaxy S9 and Galaxy S9+ at MWC 2018. As the rumors suggested, the two devices look largely similar to last year's Galaxy S8 and S8+, but Samsung has made some changes for the better.
Like last year's models, the Galaxy S9 has a 5.8-inch 2960×1440 Super AMOLED display and the Galaxy S9+ is packing a larger 6.2-inch 2960×1440 Super AMOLED screen. Unlike last year's models, though, there are some notable differences between the Galaxy S9 and the Galaxy S9+.
While the Galaxy S9 comes equipped with 4GB of RAM, the Galaxy S9+ has 6GB of RAM. The rear camera setups of these two phones differ, too, with the S9 packing a single 12MP camera and the S9+ featuring a dual 12MP camera setup. The main 12MP camera on both phones offers an adjustable aperture that can go from f/1.5 in darker settings to collect more light to f/2.4 in brighter situations, and the secondary 12MP camera on the S9+ offers a telephoto lens. Both phones also offer a super slow motion capture that records video at 960fps.
One of the biggest changes from the Galaxy S8 to the Galaxy S9 is the placement of the fingerprint reader. On the Galaxy S8, Samsung placed the fingerprint reader to the right of the rear camera. That fingerprint reader has been moved below the rear camera on the Galaxy S9, though, which should make it considerably easier to reach and harder to confuse with the rear camera.
Speaking of security, Samsung has improved its iris scanning and face unlocking tech to create its Intelligent Scan feature for better security.
Samsung has also added stereo speakers to the Galaxy S9 and S9+. These speakers are tuned by AKG and should greatly enhance the entertainment experience on Samsung's flagship Android smartphones.
Other features of the Galaxy S9 and S9+ include a Snapdragon 845 processor, 64GB of storage, and a microSD card slot. There's an 8MP camera on the front of these phones for all of your selfie needs, a 3,000mAh battery in the S9 and a 3,500mAh battery in the S9+, a 3.5mm headphone jack, IP68 water and dust resistance, and iris scanning.
On the software side of things, the Galaxy S9 and S9+ come equipped with Android 8.0 Oreo running below Samsung's custom user interface. That custom software includes Bixby, Samsung's digital assistant who also gets a dedicated button on the side of the phone. Samsung has also equipped the S9 and S9+ with AR Emoji, its answer to Apple's Animoji that will analyze an image of the user's face and map out more than 100 facial features to create a 3D model with different expressions.
Samsung's new flagship phones will support many of T-Mobile's network technologies, including 4×4 MIMO, carrier aggregation, 256 QAM, and License Assisted Access. Support for 600MHz LTE is in there, too.
The Galaxy S9 and S9+ will be available for pre-order from T-Mobile starting March 1 at 9:01 pm PT ahead of a launch on March 16. MetroPCS will launch both phones on March 16, too. Pricing for the Galaxy S9 will be set at $0 down and $30 per month for 24 months on EIP or $0 down and $32 per month on JOD. The Galaxy S9+ will cost $120 down and $30 per month for 24 months on EIP or $120 down and $31 per month on JOD.
Additionally, T-Mobile will have a special deal that'll get you up to $360 off a Galaxy S9 or S9+ via 24 monthly bill credits. To get this deal, you'll need to trade in an eligible smartphone. The smartphones eligible for trade-in include:
$360 off:
GS8
GS8+
GS8 Active
GS7
GS7 edge
GS7 Active
Note 8
iPhone 8
iPhone 8 Plus
iPhone 7
iPhone 7 Plus
iPhone 6s
iPhone 6s Plus
LG V30
LG V30+
$200 off:
GS4
GS5
GS6
GS6 edge
GS6 edge+
GS6 active
Note 4
Note 5
iPhone 5s
iPhone SE
iPhone 6
iPhone 6 Plus
LG V20
LG G6
LG G5
Color options for the Galaxy S9 and S9+ will include Midnight Black, Lilac Purple, and Coral Blue.
While some people will likely be disappointed with the Galaxy S9 since it looks so similar to the Galaxy S8, I don't think it's that big of a deal because the S8's design is still one of the better-looking phones among all flagships right now. Plus, Samsung has made some small but significant changes to the S9, like the new fingerprint reader placement and the stereo speakers. In all, this looks like another solid flagship Android phone from Samsung.
Now that it's official, what do you think of the Galaxy S9 and Galaxy S9+? Will you be picking one up?
Source: Samsung