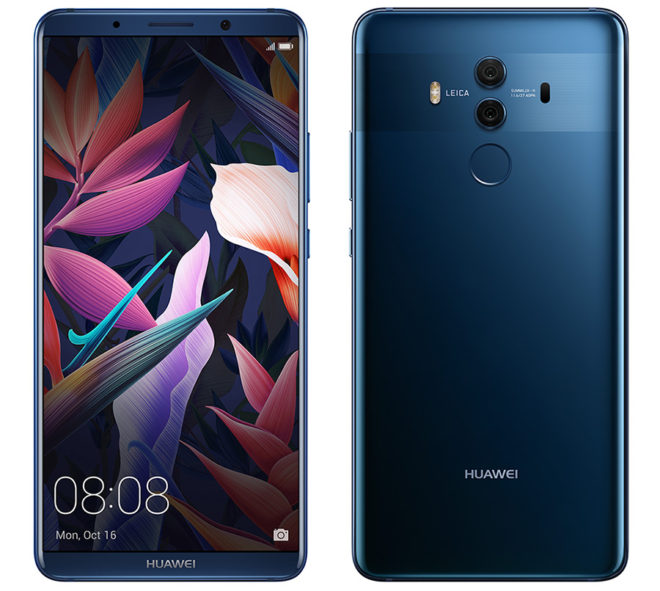 After launching internationally last year, Huawei's Mate 10 Pro is now coming to the U.S.
Huawei today confirmed that the Mate 10 Pro will launch in the U.S. in February. Specifically, it'll be available for pre-order starting February 4th and will launch on February 18th. The phone will be available from Amazon, B&H, Best Buy, Microsoft, and Newegg for $799.
The Huawei Mate 10 Pro will be sold as a GSM unlocked device. I've asked Huawei about the Mate 10 Pro's wireless band support and will update this post when they respond.
Specs for the Mate 10 Pro include a 6-inch 2160×1080 OLED display with slim bezels and a Leica-branded dual rear camera setup. There's a 20-megapixel monochrome sensor and 12-megapixel RGB sensor on the back of the phone along with a dual LED flash and f/1.6 aperture. Huawei touts that its cameras offer real-time scene and object recognition as well as a bokeh effect.
There's also a fingerprint reader below the Mate 10 Pro's rear cameras, and the front of the phone is home to an 8-megapixel camera.
The body of the Mate 10 Pro features "3D Glass" and is IP67-rated for dust and water resistance. Inside that body is an octa-core Kirin 970 processor, 6GB of RAM, and 128GB of built-in storage. A 4,000mAh battery powers the entire package and there's a USB-C port for recharging that battery. Huawei is including a USB-C-to-3.5mm adapter with each Mate 10 Pro, too.
On the software side, the Mate 10 Pro comes with Android 8.0 Oreo and Huawei's EMUI 8.0. Huawei touts that you can use EMUI 8.0 to do things like connect your Mate 10 Pro to a monitor and use it like a desktop PC or use apps with a multi-column display to make performing tasks easier.
Huawei also confirmed today that it will launch the Porsche Design Huawei Mate 10 in the U.S. on February 18th. This premium device has Porsche Design branding, an exclusive Diamond Black color, and a "unique front and back cover design." It's similar to the Mate 10 Pro in terms of specs, but it does come with 256GB of storage.
The Huawei Mate 10 Pro launched internationally towards the end of 2017, and so it's good to see Huawei bringing it to the U.S., too. The lack of carrier availability may deter some people since you'll be paying full price for the Mate 10 Pro rather than getting it in installments from your carrier, but it is nice to have the option of easily buying the Mate 10 Pro so long as you're cool with buying it unlocked.
What do you think of the Huawei Mate 10 Pro?
Source: Huawei