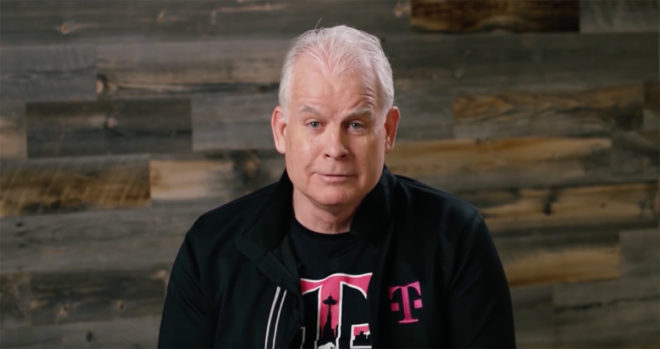 In the final days of 2016, T-Mobile CTO Neville Ray shared an end-of-year network update that touched on many of the things that T-Mo accomplished through the year. Ray did the same thing this week for 2017, but this time he gave his recap in video form.
One of the topics Ray touched on in his 2017 end-of-year recap is 600MHz. He says that T-Mobile has hundreds of 600MHz cell sites built right now, with the goal of moving that number into the thousands as we move into 2018. "600MHz is gonna explode for the U.S. consumer in 2018," Ray says.
T-Mobile spent nearly $8 billion on 600MHz spectrum during the FCC's auction earlier this year, and it began deploying 600MHz for 4G LTE this year. Speaking of LTE, Ray says that at the end of 2017, T-Mobile's entire 4G LTE network covers 321 million people.
Neville Ray also broke some news in his recap video, saying that T-Mobile exceeded speeds of 1Gbps on licensed spectrum last week. T-Mo recently surpassed speeds of 1Gbps using unlicensed spectrum, and now Ray says that they've done the same with licensed spectrum as well.
Looking ahead, Ray reiterated T-Mobile's plan to begin building its 5G network in 2019, and the T-Mo CTO things that we'll begin seeing the first 5G-capable commercial devices in early 2019, too. T-Mobile hopes to reach nationwide 5G deployment in 2020.
The 3GPP completed the first 5G NR specification this week, bringing us one step closer to 5G networks. Neville Ray had this to say about the 5G NR spec:
"This is an important moment and a crucial development toward making 5G NR happen. At T-Mobile, we're committed to drive a 5G rollout across the US in 2020, and the efforts of 3GPP will help us to realize this great win for our customers."
You can watch Neville Ray's full 2017 recap video above. What do you want to see from T-Mobile in 2018?
Via: MobileWorldLive
Source: T-Mobile (YouTube)