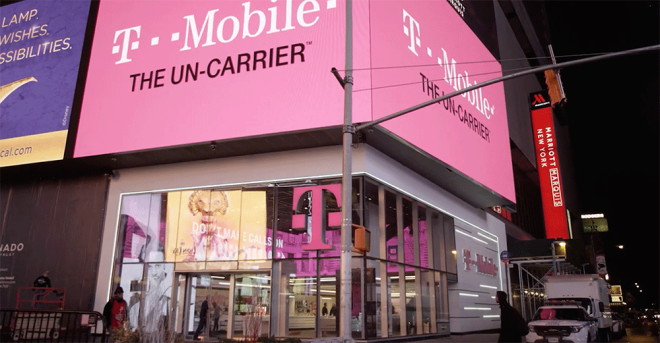 T-Mobile today dropped its Q3 2017 earnings report, revealing that it's extended its streak of consecutive quarters with more than 1 million customers added.
T-Mobile says that it added 1.33 million customers in Q3 2017, making that its 18th straight quarter of adding more than 1 million customers to its network. Of that 1.33 million, there were 817,000 new postpaid subscribers, 226,000 prepaid adds, and 286,000 wholesale adds.
At the end of Q3 2017, T-Mobile served 70.73 million customers.
Both postpaid and prepaid churn grew from Q2 2017 to Q3 2017, with postpaid churn increasing to 1.23 percent and prepaid churn growing to 4.25 percent.
On the financial side, T-Mo reports that Q3 2017 saw year-over-year increases in total service revenues ($7.6 billion in Q3), total revenues ($10.0 billion in Q3), and net income ($550 million in Q3).
T-Mobile also touched on its network today. At least 10MHz of 600MHz spectrum covering 1.2 million square miles will be cleared and ready to deploy in 2017, T-Mo says, and more cities are expected to gain 600MHz coverage this year. 600MHz service is currently live in Cheyenne, Wyoming and Scarborough, Maine.
A new 600MHz-compatible device is coming this holiday season — rumors say it'll be the Samsung Galaxy S8 Active — joining the LG V30 in letting customers use that new 600MHz coverage. The majority of devices launched in 2018 are expected to be 600MHz compatible.
T-Mobile's 4G LTE network currently covers 316 million people, and T-Mo aims to grow that number to 321 million people by the end of 2017.
One other detail worth noting is that unlike in most other quarters, T-Mobile is not holding a live call to discuss its Q3 2017 results in greater detail. That may be because of the rumors that T-Mobile and Sprint are close to announcing a merger and so many questions that'd likely be asked during a call would be related to that deal, which T-Mo wouldn't be able to answer. Sprint is also skipping a conference call when it announces its next  quarterly earnings on October 25th.
Source: T-Mobile