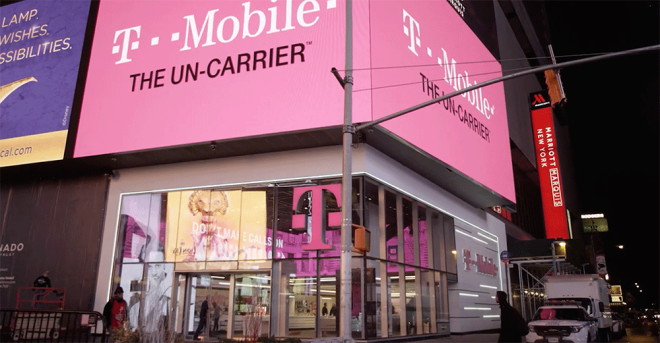 UPDATE: John Legere said today that T-Mobile plans to open 1,000 new T-Mo stores in 2017 as well as 1,500 new MetroPCS stores. Also revealed during today's earnings call is that two-thirds of T-Mobile customers are using Voice over LTE (VoLTE) calling.
ORIGINAL: Today is a Tuesday that's loaded with big events, because not only is it both Valentine's Day and T-Mobile Tuesday, but it's also T-Mobile earnings day.
T-Mobile today shared its Q4 2016 results, revealing that it added 2.10 million customers in the final months of last year, which is the 15th straight quarter that T-Mo has added more than 1 million subscribers. To compare, T-Mobile added 2.06 million customers during Q4 2015. During the entire year of 2016, T-Mo added 8.2 million customers.
As of the end of 2016, T-Mobile had 71.5 million customers.
Also of note is that postpaid phone churn for Q4 2016 finished at 1.28 percent, down from 1.46 percent in Q4 2015, which means that fewer customers left T-Mobile in Q4 2016 than in Q4 2015. Branded prepaid churn also fell year-over-year, going from 4.20 percent in Q4 2015 to 3.94 percent in Q4 2016.
Switching over to the network side of things, T-Mobile now covers 314 million people with 4G LTE service, with plans to grow that number to 320 million by the end of 2017. T-Mo says that at the end of 2016, it owned or had agreements to own 86MHz of spectrum in the top 25 markets in the US. That includes a previously-announced 700MHz A-Block transaction that closed at the end of 2016 as well as a 700MHz A-Block transaction for eastern Montana that closed earlier this year.
T-Mobile also reports that it now covers more than 252 million people with Extended Range LTE (aka 700MHz, aka band 12) that offers improved coverage and in-building performance.
T-Mobile says that it continues to refarm its existing spectrum to improve its network. Around 70 percent of its spectrum was being used for 4G LTE coverage at the end of 2016, up from 52 percent at the end of 2015, and T-Mo plans to continue refarm spectrum currently being used for 2G and 3G.
Finally, T-Mo's Wideband LTE coverage now reaches 232 million people.
The past week has been a big one for T-Mobile, including the return of pizza to T-Mobile Tuesdays and improvements to the T-Mobile One plan.  Now T-Mo has reported another solid quarter of earnings and has surpassed the 70 million subscriber milestone.
T-Mobile will host an earnings call to discuss its Q4 2016 results at 10:00 am EST today. I'll be sure to update this post with any interesting details that John Legere and Co. share.
Source: T-Mobile