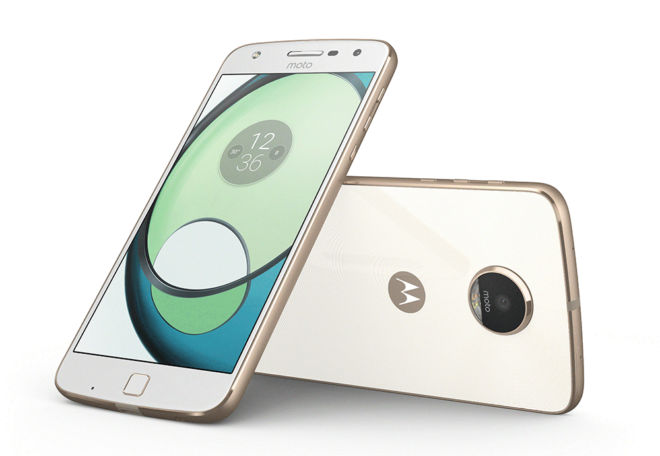 UPDATE: Motorola tells me that the Moto Z and Moto Z Play will support LTE band 12 and VoLTE.
After announcing the Moto Z earlier this year, Motorola today introduced another member of its Z family: the Moto Z Play.
The Moto Z Play is a mid-range compliment to the Moto Z, offering features like a 5.5-inch 1920×1080 Super AMOLEd display and Snapdragon 625 processor. It's also got a 16-megapixel rear camera with laser autofocus and phase detection autofocus, and there's a 5-megapixel camera with wide-angle lens on its face.
Other features of the Moto Z Play include 32GB of built-in storage, a microSD slot to supplement that built-in storage, 3GB of RAM, a fingerprint reader, and a 3,510mAh battery that Motorola says is good for up to 50 hours of mixed usage. There's USB Type-C port on the bottom of the Z Play for charging, and unlike the Moto Z, the Z Play also offers a 3.5mm headphone jack.
The Moto Z Play will initially be a Verizon exclusive, just like the Moto Z, with a launch on that carrier in September. Motorola plans to offer a GSM unlocked version of the Moto Z Play and Moto Z in October, with pricing set at $449.99 and $699.99, respectively.
I've reached out to Motorola and asked about their plans for T-Mobile band 12 LTE, VoLTE, and Wi-Fi Calling support on their unlocked Moto Z and Moto Z Play models. I haven't heard back as of this writing, but I'll be sure to update you when I do.
Motorola today also introduced an addition to its Moto Mods line, which are modules that you can attach to the Moto Z devices. The new Moto Mod is the Hasselblad True Zoom, a camera module that you can slap onto the back of the Moto Z or Moto Z Play.
The Hasselblad True Zoom beefs up the Moto Z's camera capabilities, giving it features like a 10x optical zoom, Xenon flash, OIS for photos and EIS for video, and more. It'll be available starting in September for $249.99 from Verizon or $299 from Motorola.
Source: Motorola