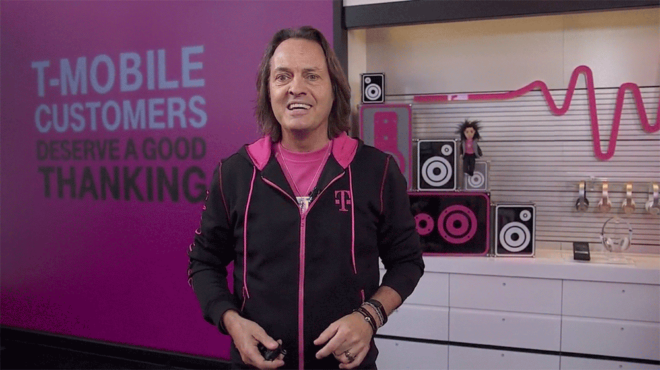 T-Mobile has made 10 big Un-carrier moves in the past, including Music Freedom and Binge On, and today T-Mo turned things up to 11.
Un-carrier 11 is now official, and with it, T-Mobile wants to thank its customers. The first part of the move is T-Mobile Tuesdays, a new app that'll let subscribers get a free medium two-topping Domino's pizza, a small Wendy's Frosty, and a VUDU movie rental every Tuesday. These free goodies will be available to all customers with an active T-Mobile monthly rate plan, including postpaid, prepaid, and business customers. Every line on your account is eligible for T-Mobile Tuesdays giveaways.
In addition to those weekly goodies, the T-Mobile Tuesdays app will include a surprise gift every week. The first surprise gift, which comes tomorrow, is a free ticket to the new movie Warcraft. The week of June 14 will offer a free Lyft ride up to $15, June 21 will bring a free $20 gift card for MLB.com, and June 28 will bring a one-year subscription to Bon Appétit magazine. The T-Mobile Tuesdays app will also let you enter to win bigger prizes that include things like a trip to MLB All-Star Week and a $10,000 New York City shopping spree.
Finally, if you share photos of your T-Mobile Tuesdays goodies on social media with the hashtag #GetThanked, you could win extra stuff like a Domino's pizza party or free Lyft rides for a month.
The T-Mobile Tuesdays app for Android is now live, and you can get it right here. The iOS app can be found right here. T-Mo also says that Windows 10 Mobile users can access T-Mobile Tuesdays on the web.
The second piece of Un-carrier 11 is Stock Up. With this initiative, T-Mobile is rewarding its customers with stock in the company itself. Primary account holders on postpaid voice accounts can get a free share in T-Mobile, and you can earn up to 100 more shares in T-Mo by referring others to the carrier. You get one extra share in T-Mobile for each customer that you refer to the Un-carrier. Long-term customers can get even more shares: Anyone that's been with T-Mo for five years or more can get two shares for every referral.
In order to get your free share of T-Mobile stock, you'll need to sign up for an account with Loyal3. You can then claim your free stock through the T-Mobile Tuesdays app. Existing T-Mobile customers can claim their stock between June 7 and June 21, while new T-Mobile customers will have two weeks post-activation to claim their free share.
Finally, T-Mobile is one-upping the free Gogo in-flight texting feature that it launched in September 2014. Starting June 13, all T-Mobile customers can use iMessage, Google Hangouts, WhatsApp, and Viber for free with GoGo. T-Mo customers will also get one free hour of inflight Gogo Wi-Fi usage on their smartphones on every Gogo flight.
Source: T-Mobile