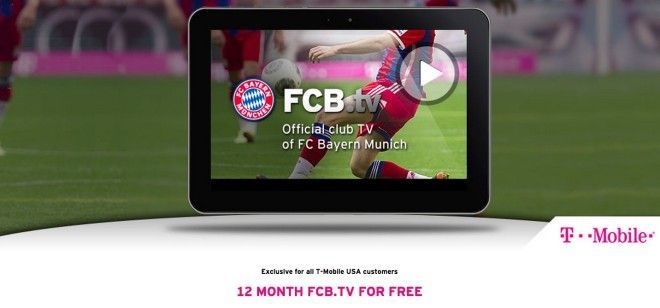 Those of you familiar with the world of soccer will be aware of Bayern Munich. It's one of the best teams in Europe – in fact – one of the best teams in the world. You'll also know that for years now, the team's jerseys have featured prominent Deutsche Telekom branding. T-Mobile's majority stakeholder has long been one of the club's biggest sponsors. And now that partnership between the two firms is set to benefit customers in the U.S.
T-Mobile US customers can now get a free 12 month subscription to Bayern Munich's on-demand streaming service. FCB.TV gives you access to a ton of awesome Bayern content. The service's programming is loaded with a generous amount of exclusive content including match highlights immediately after each game and replays of full live games (within 24 hours of the game finishing). And it's not just the official competitive games, friendlies are included too. There's also player interviews and behind-the-scenes footage. And you'll get to watch it all for free.
If you access FCB.TV/t-mobile using your cellular connection, you'll be able to take advantage of the promotion and watch as much of the club's content as you like for the next year. The offer is open to all T-Mobile Simple Choice customers.
"Soccer fans are some of the most passionate sports fans around and keeping up with their club is incredibly important to them," said Mike Belcher, Vice President Media and Consumer Engagement at T-Mobile. "So we're giving every Un-carrier Simple Choice customer free access to FCB.tv this year. Fans can now enjoy the new season on our lightning fast 4G LTE Data Strong network."
Not for the first time, I find myself a little jealous of T-Mobile US customers. Even if the majority of you aren't in to football (soccer), you could do a lot worse than introduce yourself to the sport through watching Bayern Munich. The team completely dominated its home Bundesliga championship this season, and normally does really well in Europe's biggest competition – The Champion's League, making it to the semi-finals this year.
Via: Goal