As usual with European events, PhoneDog sent me over to IFA in Berlin to cover the Samsung event earlier this afternoon. (Quick thanks to Evan for holding down the fort in the mean time, much appreciated).
At an iconic Tempodrom venue in Berlin today, Samsung unveiled its latest lineup of innovative and exciting products. They included the Note 4, Note Edge, Gear S and Gear VR. And while the latter three of that bunch all have their eye-catching features and revolutionary tech, it was the Note 4 that really stood out to me as being the device everyone should be talking about.
Gone is the flimsy plastic chassis, replaced by a sturdy and polished metal frame. It has a really great-feeling soft textured coating on the back, the heart rate sensor and fingerprint sensor stolen from the S5, a brand new S-Pen and a front facing camera capable of taking extreme wide-angled, panoramic selfies. The S-Pen is more sensitive than ever, and has been designed to feel more natural. The 16MP snapper on the back has OIS and can take great low light shots. Its 3,220mAh battery might only be a little more than the Note 3, but its power management means you should get 7.5% more battery life, despite the Quad HD display.  Oh, and it's equipped with Cat 6 LTE and a monstrous 2.7GHz Quad-Core processor…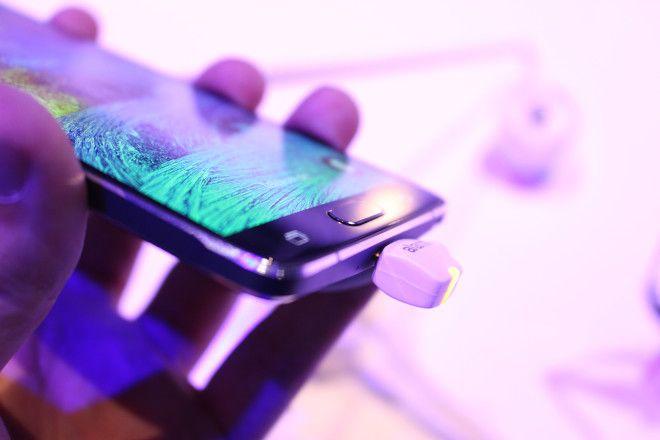 Granted, there's only so much you can learn from picking up a phone at a bustling press event. But I was left impressed by Samsung. And that doesn't happen very often. Ignoring the gimmicky Edge, Gear S and VR, focusing solely on the 5.7-inch Note 4, I can't help but feel Sammy knocked this one out of the park. There's no part of the Note 4 that I don't prefer over the Note 3. It feels better in hand, it's more powerful. It looks like someone cared a little more about the way it looked and felt, and that display is incredible. Color vibrancy, sharpness, contrast and viewing angles show that LG's G3 display of the same resolution really isn't all that.
If you're a Note fan, I don't think you'll be disappointed. It's the Note, the way it always should have been. And it's coming to T-Mobile soon.