If I was to sum up the essence of Coocoo Planet in a phrase, it'd be: the love child of Tamagotchi, Candy Crush and the Sims. It's an addictive game where you not only have to build worlds, but also care for individual characters. Dubbed Coocoomons, these characters – and their world – are designed to resemble sweet, sugary treats.
Upon opening the game up, you're immediately greeted by a friendly in-game host who guides you through a tutorial. It helps you place necessary buildings, and incubate your Coocoomons. And that's only the start.
You're handed quests, which reward you with gold and candy upon completion as well as experience. As you complete more, you "level up" and gain access to unlockable buildings, Coocoomons and food.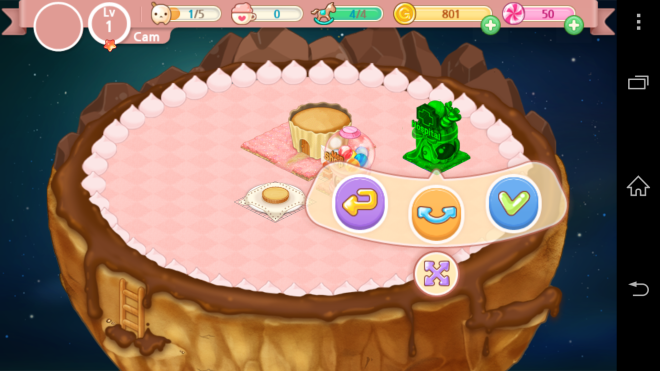 To keep your town residents happy, you need to produce food for them to eat, a bed for them to sleep in and give them plenty of attention and playtime. A good combination of all three makes for a happy Coocoomon. Just like a Tamagotchi. But, it just so happens that your Coocoomons are walking, living cookies. Whether it's a sandwich cookie, a stick cookie or a macaroon, it's hard to know whether you're meant to keep it alive, or eat it.
As your living treats are played with, fed and rested, you can develop them, and they eventually grow out of infancy and can take on new flavors. Eventually – and with time – they'll grow to adulthood. And as they do so, you continue earning experience and leveling up, to the point where you can unlock another planet with a different edible theme.
I have to be honest, when I opened it up, I wanted to hate the app. I wasn't keen on the graphics. The pastel colors and low resolution combined with the irritating tutorial guide almost made me give up on it at one point. But, once I figured out how it all worked, started growing more Coocoomons and building up my town, I soon got hooked. I somehow lost an hour, without even realizing it. It should come with a warning that it'll suck you in, and keep your attention locked for hours. Like Candy Crush.
And, like a lot of world-building games, you can decorate with statues, fences, paths and upgrade all your buildings to do what they do at higher capacity.
Every action takes time. Like a lot of these games, you can speed processes up by spending candy credits. But once you run out of those, the only option is to then use an in-app purchase. Which I'd quite happily complain about, but, I've not found the need to use one yet.
All in all, it is a fun game. Granted, the theme and graphics won't be to everyone's taste. But it's quirky and fun and it's a free download on the Google Play Store, so you have nothing to lose. Except maybe a few hours of your life.
.
Find out more about PhoneDog Media's sponsored review program here