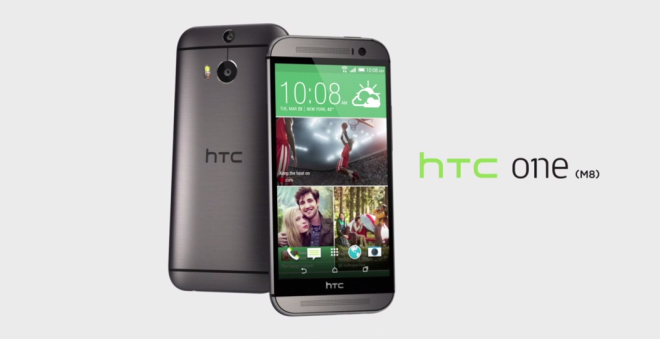 HTC, today took the wraps of the long-rumored brand new HTC One at events in New York and London. The brand new model takes some key design influences from its predecessor, but is clearly larger and more powerful than the first generation model.
Like its predecessor, it features the front facing BoomSound speakers on either side of its display, which has grown up to 5-inches of full HD gorgeousness. If you thought the last model was immersive, this should be even more so. It hosts a 2,600mAh battery which – on paper – may not seem as impressive as the likes of the new Z2, but it should easily get you through a day on a full charge if not more, especially when it's using the "Extreme Power Saving Mode" that adds up to 15 hours of extra battery life when your battery reaches 5%.
As for its design, it looks like a bigger, more rounded version of the original One. The metal finish is noticeably different too. Its Gun Metal finish definitely more "brushed steel" than iMac-style aluminum finish. In all there are three finish options: Gunmetal Gray, Amber Gold and Glacial Silver. And now, the rear panel is now 90% metal. No more polycarbonate edges.
There are a couple of big talking points here too. Firstly, the Duo Camera with Ultrapixels system which allows you to set the focus areas after you've taken a picture to add more depth to your shots. Dubbed UFocus, it lets you select what you would like to be in focus, even after you've taken the picture. So, you can add some great background defocus (bokeh) to your images. It's possibly too early to tell if this is a gimmick, or a key market difference. My cynical side presumes the former. The camera's also paired with a two-tone LED flash, similar to the iPhone 5s. Secondly, it now comes with a MicroSD card slot, so you can expand the 16 or 32 GB up to an extra 128GB. It also houses 2GB of RAM partnered by a Snapdragon 801 quad-core CPU.
Other specs include:
5MP front camera, wide angle with HDR
NFC
Bluetooth 4.0
Wi-Fi – 802.11 ac
MircoUSB port with mobile high-definition video link
Infrared remote control
Quick Charge 1.0 compatible
6th version of Sense UI and improved BlinkFeed
Fitbit compatibility built-in for fitness tracking
There's also the uniquely odd case called Dot View. It has LED-lit holes that show basic information, like time and weather. It's an unusual case, but is a funky alternative so the flip-style cases with cutouts designed by Samsung and LG. You can decline a call without opening it, swipe to answer or lift the phone to your ear.
The new HTC One – a little late to the game – also features some motion based actions, like the ability to to answer a call by placing it to your ear, or double-tapping to wake.
As for what you T-Mobile fans really want to know: Which frequencies does it support? On the 3G side, we have 850/AWS/1900/2100 with HSPA+ up to 42Mbps. But here's where it gets really interesting, on the LTE side it's compatible with 700 and AWS bands (bands 4 and 17). So, when the carrier launches its 700MHz network later this year/beginning of 2015, we already have a phone that's compatible.