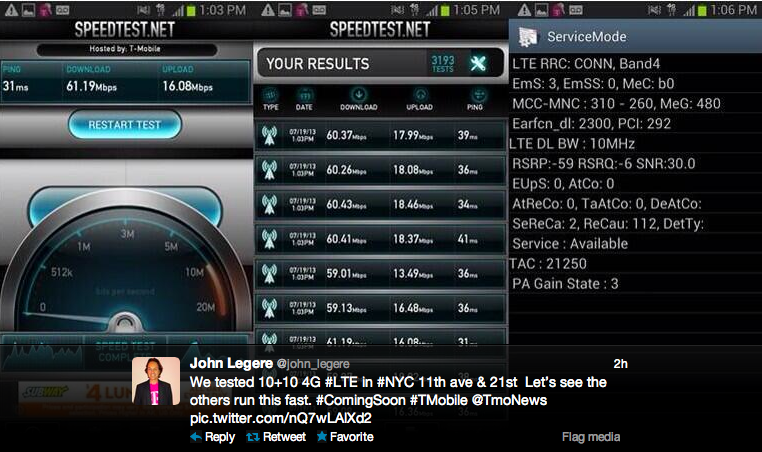 The Twitter account of T-Mobile CEO John Legere (@john_legere) is handily one of the most entertaining I have ever seen in the technology industry, especially from a CEO. It goes without saying that Legere is going to say nice things about his company and some  and some not-so-nice things about his competition. However, Legere takes it another level with almost every tweet and that level is "awesome."
Now, I grant you that hitting the speeds on the company's LTE network in the picture above begs the question if Legere wasn't piggybacking onto a part a T-Mobile's LTE network that is not yet accessible to the public at large. Truthfully, it doesn't even matter. What does matter is the way Legere presents the results and the competition he taunts because of them.
T-Mobile has needed this kind of energy injection for far too long and even if the rumors of a Dish/Sprint/merger/acquisition never stop, Legere has inspired his base through social media. There's still work to do on the company's JD Power position and company morale but he does seem to be making all the right moves and setting social media on fire with almost every tweet. At the very least the tech blog world is in love with him and that just means more coverage for his Tweets which means more coverage for T-Mobile in general and that's something we can all get behind.