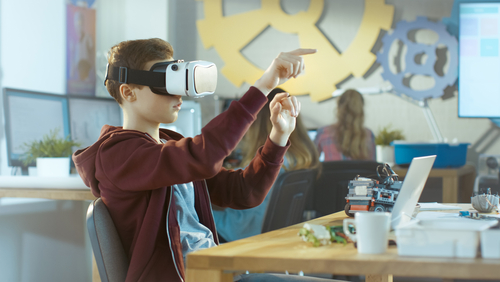 Now that it's back-to-school season, T-Mobile CTO, John Saw, has released a blog post sharing how new learning opportunities will be available to schools in the US. Of course, this is all thanks to 5G and extended reality (XR). 
The blog post shares four companies that are currently using T-Mobile's network to deliver new learning innovations to reality. These include the following: 
Kai XR: "Recently, Kai XR worked with Harris County Juvenile Detention Center in Texas to provide students with educational learning objectives using T-Mobile 5G connected devices to improve digital literacy, demystify in-demand technologies like XR, provide hands-on opportunities with emerging tech and decrease recidivism for students in the center through exposure to career pathways."
VictoryXR: "VictoryXR uses its platform to create virtual classrooms, campuses and laboratories using AR and VR headsets connected to T-Mobile 5G to provide students with unique learning environments they might otherwise not have access to."
Barbara Bush Foundation for Family Literacy: "Using the VeyeZER™ GRAPH application for the Microsoft HoloLens 2 device, the Barbara Bush Foundation is pilot testing a somewhat different approach to XR learning. This solution seeks to improve adult literacy by performing a series of reading skill assessments, tracking eye movement and compiling statistics to allow practitioners to create customized learning programs for participants to improve their literacy, once again leveraging 5G to maintain low-latency and reliable connectivity."
Prisms of Reality: "Today, Prisms VR is active in 36 states, improving student test scores, engagement and interest in STEM topics, all while delivering a superior immersive VR experience nearly impossible to perform on school Wi-Fi systems due to latency, network restrictions and bandwidth."
You can read more about the work that these companies are doing in this blog post.
Source: T-Mobile