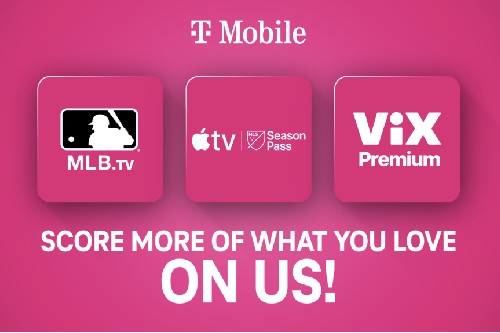 A few weeks ago, T-Mobile announced that it has brought back its popular T-Mobile Tuesdays reward, free MLB.TV. In preparation for MLB All-Star Week, the Un-carrier is giving away free MLB.TV subscription once again. They are also offering a $200 credit toward any sports streaming service of your choice. This is available to customers who switch to T-Mobile. 
As announced by football quarterback, Patrick Mahomes, the lineup for the free MLS Season Pass includes the following:
BASEBALL. T-Mobile, Metro by T-Mobile and Home Internet customers can once again snag a free season-long MLB.TV subscription ($139.99 value) May 23 through Jul. 17 via T-Mobile Tuesdays. On top of Friday Night Baseball with Apple TV+ on Us that eligible customers already get, too!
SOCCER. T-Mobile and Metro by T-Mobile customers can already watch soccer matches for free with MLS Season Pass on Us ($99 value), bringing all the Major League Soccer action to the Apple TV app. Plus, exclusive matches from the best leagues in Europe and Latin America are available with ViX Premium on Us.
SPORT OF YOUR CHOICE! And right now, anyone who switches to T-Mobile on Go5G Plus can get $200 via prepaid card for EVERY line the bring over – to put toward another top sports streaming app.
Lastly, T-Mobile is giving away an MLB All-Star Week experience. A lucky winner will win a pair of tickets to the T-Mobile Home Run Derby, MLB All-Star Game, PLAY BALL PARK, VIP access to an epic party, money to use at T-Mobile Park all weekend, and many more. If you are interested, make sure to visit this page on May 30th to join. 
Source: T-Mobile