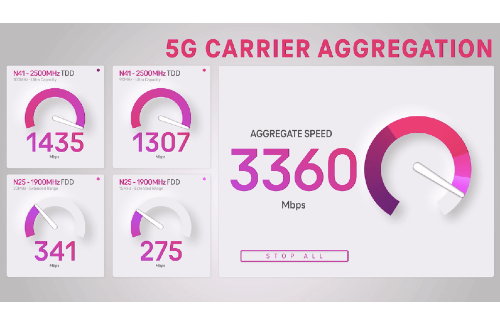 T-Mobile is making upgrades to its 5G network. Through these upgrades, its 5G network will be faster and more advanced. 
In its announcement today, the Un-carrier revealed two key steps they are making for these upgrades: the first is with its four-carrier aggregation with 5G SA (Stand-alone). The Un-carrier was able to successfully test the technology and as a result, earn peak speeds reaching 3.3 Gbps on a Samsung Galaxy S23. This testing was able to combine two channels of 2500MHz spectrum (band 41) and two channels of 1900MHz spectrum (band 2/25). The combination of these channels created one 5G SA channel with 225MHz wide capacity. 
With this development, T-Mobile revealed that Samsung Galaxy S23 customers will be "among the first to experience four-carrier aggregation later this year." They also promised that more devices will follow in the future. 
The other announcement that T-Mobile made today is that they have deployed VoNR in six cities. The cities that now have this technology include:
New York City
Seattle
Portland
New Orleans
Cincinnati
Salt Lake City
While customers won't be able to notice a change, their voice call setup time will be slightly faster than before. VoNR will also allow devices to stay connected to 5G continuously. 
You can read more about these announcements here.
Source: T-Mobile