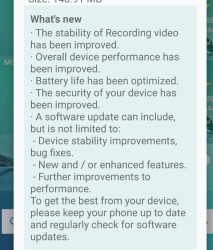 It appears that today T-Mobile has pushed out minor updates for the Samsung Galaxy S7 and S7 edge today. This is an update to the existing v6.0.1 for both of Samsung's flagship devices.
Only 146.91MB in size, Android 6.0.1 will include small bug fixes and overall device performance.
It's been noted by several users that T-Mobile has been slacking in terms of Android updates for major flagship phones. However, this could be a sign that T-Mobile is working on updates for other Android handsets.
If you're an owner of a Samsung Galaxy S7 or S7 Edge, let us know if you see any noticeable improvements in the comments below!
Thanks Emad, David, Justin, and Luis!