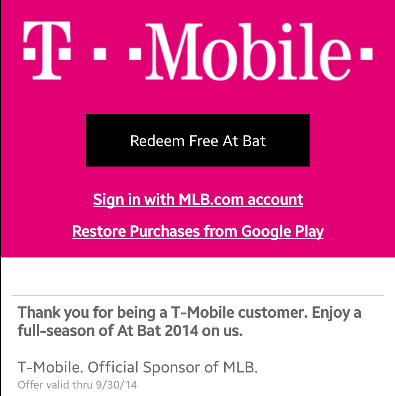 Last year, a few months after announcing a multi-year partnership with the MLB, T-Mobile began offering free access to content through the MLB at Bat iOS and Android app. And it looks like it's back again for 2014.
A few customers have tipped us to let us know that they were able to get free access to MLB at Bat 2014, but there's yet to be any official announcement on this from either T-Mobile or MLB. From the screenshot above, it appears the offer is available until September 30th, slightly longer than the May-June limited offer of 2013. Still, we're not 100% sure on the details.
However, delving through T-Mobile's support pages revealed the following: "Try streaming a game and it should offer the option to "Redeem Free At Bat".  It also says, "Thank you for being a T-Mobile customer.  Enjoy a full-season of At Bat  2014 on us." 
The offer is also seemingly confirmed by a "T-Force Specialist" on the support pages:
"UPDATE: As the official sponsor of Major League Baseball, we will be offering MLB At Bat 14 to our customers for free starting May 1 through the entire regular season! With our unlimited data and nationwide 4G LTE, you can enjoy all the great features MLB's At Bat has to offer!"
We're also told to await official confirmation through T-Mobile's usual newsroom.
We'll bring you more on this once it's been officially confirmed. Hopefully being able to clear up any terms and conditions, and official guidelines on how to redeem and who can redeem on what devices. It's a great offer for baseball fans, saving you from paying the $20 annual subscription fee.
If you have success on this in the mean time, please leave your experiences in the comments or shoot me an email [email protected]