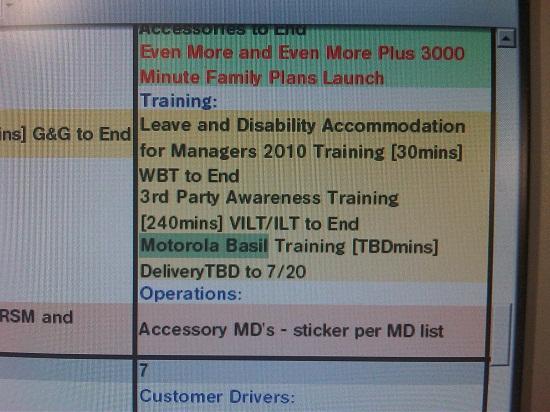 Thanks to my friends over at Phonedog who received a juicy training calendar that contains secrets regarding upcoming products and services.  We can take guesses at some of the information, but for some we are just going to have to inquire a little further.  For instance, both July 21st and July 28th are scheduled for handset launches.  Considering we have been calling for a July 21st launch date for the Samsung Galaxy S, this certainly lends more credence to that rumor.  We have heard the words Motorola Basil tossed around with our sources for a while but are still unable to pinpoint exactly what it is.  However, considering multiple device launches are scheduled for July 21st and July 28th, we could be seeing T-Mobile gearing up for an onslaught of summer device launches.  On another note, there are special offers and promotions scheduled to last until September 7th and given @T-Mobile_USA teaser tweet on Twitter today, they certainly have something up their sleeve.
Also worthy of note is the mention of a 3,000 minute plan in store for customers on both Even More and Even More Plus Family plans. That sounds very very interesting!
It looks like T-Mobile is making some moves with the promise of a number of device launches, new rate plans and a partridge in a pear tree. Seriously, we are hoping that these moves are enough to continue to give T-Mobile the boost it needs to make some movement and catch up on Sprint. We loathe you Sprint…come on Magenta!