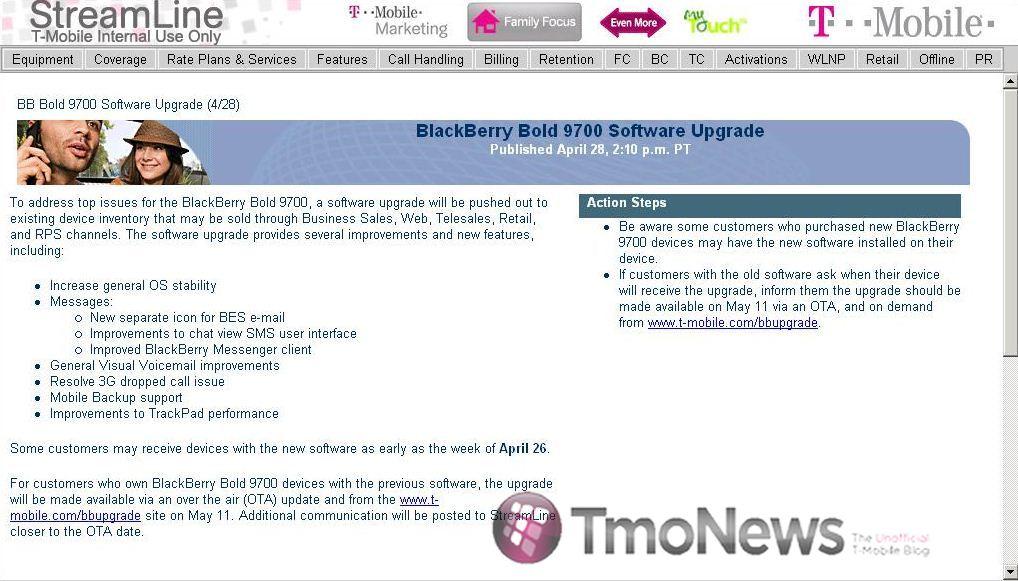 We've got good news T-Mobile Bold 9700 owners! Beginning May 11th, T-Mobile will be pushing out a new software upgrade to address some of the top issues Bold 9700 owners were experiencing. The new software upgrade will include several improvements along with some new features.
The new software upgrade will include:
Increased general OS stability (less battery pulls/lag etc.)
Improvements to the messaging experience such as, a separate icon for BES e-mail, improvements to chat view SMS interface, and an improved BlackBerry Messenger (BBM) client.
General Visual Voicemail improvements
Resolve 3G drop call issue
Mobile Backup Support
Improvements to TrackPad performance
Customers may receive devices with the new software as early as the week of April 26. So if you purchased a T-Mobile BlackBerry Bold 9700 on or after, Monday, April 26th, there's a chance you might already be running the new software. For all other customers with the old software, the software upgrade will be made available via an Over-the-Air (OTA) Update and from the www.T-Mobile.com/bbupgrade site on Tuesday, May 11th.
Sound off in the comments!